The world' largest casino is the WinStar World Casino in Thackerville, Oklahoma, USA.
Situated about 120 miles south of Oklahoma City and 110 miles north of Dallas, the mega casino attracts plenty of visitors from both Oklahoma and North Texas, as well as many tourists and gambling enthusiasts who flock from further afield to see the biggest casino in the world.
As of 2020, the WinStar World Casino boasts 370,000 square feet of gambling space. For comparison, the MGM Grand in Las Vegas has just 171,500 square feet of gaming space.
The Las Vegas of Oklahoma!
Often called the "Las Vegas of Oklahoma", the WinStar World Casino Resort is one of the many casinos in Oklahoma. In fact, Oklahoma has the 2nd most casinos in the United States after Nevada.
The WinStar is also a tribal casino, meaning it is based on a Native American land where gambling restrictions cannot be enforced. It is run by the Chickasaw Nation, a tribe based in Oklahoma.
The hotel-casino opened in 2003, initially boasting 1,395 rooms and a large casino floor. Since then, additional rooms and gaming space has been added, including a non-smoking gaming plaza called the Rio Gaming Plaza.
Design of the world's largest casino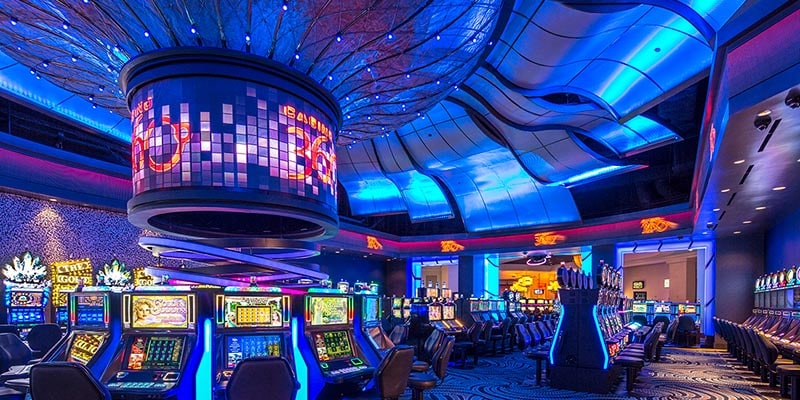 The WinStar was designed by famous designer Larry E. Seitz, who also designed other world-famous casinos. To name a few of them – Casino Panama, SS Norway, Grand Casinos in Mississippi, Chisolm, and Buffalo Run.
The façade of the exterior of the casino was designed by the same architect who did The Venetian Casino in Las Vegas and the Planet Hollywood Restaurant in New York.
The exterior façade includes elements of London's Houses of Parliament, Paris's Arc de Triomphe, and Rome's Coliseum.
Main features
As the biggest casino in the US (and the world), the WinStar World Casino Resort is not short on attractions and things to do.
The main attractions of the world's largest casino are as follows: 
Multiple gaming plazas, both smoking and non-smoking
WinStar Global Event Center (3,500+ seat theater)
Golf Club & Golf Academy (two 18-hole golf courses)
Multiple resort-style pools with spas and Tiki Bars
200-space RV Park with shuttle service
18+ restaurants and cafes
Multiple 24/7 bars
1,495 hotel rooms
40 premium suites and 395 executive rooms
The Dress Code at the WinStar Resort
There is no dress code at the WinStar World Casino Resort. As is the case with most casinos, they want as many gamblers as possible, so they're not going to put strict rules in place. Shorts, t-shirts, and casual clothes are certainly allowed.
You do need shoes and a shirt, however.
Despite the casual dress code, you might want to dress smart-casual in order to fit in and feel comfortable in the semi-formal casino environment.
Can you bring in outside drinks?

Outside food and drinks are strictly prohibited. The hotel has well over a dozen restaurants and several bars that are open 24/7 365 days a year, so there's no excuse not to get something from one of the bars or restaurants.
Of course, being a casino, they want to make as much money as possible! Don't be bringing picnics to the slot machines.
Are children and pets allowed?
Naturally, guests are able to visit all the public areas of the casino. However, children and pets are not allowed to be left unattended on casino premises.
If you want to bring your children or a pet, there will also be restrictions on where you can take them within the casino, even if they are accompanied.
Is smoking allowed in the world's biggest casino?
Yes, smoking is allowed inside the WinStar World Casino, and smoking is seen in most areas of the casino floor.
However, the resort recently opened an area called the Rio Gaming Plaza which is an entire gambling space for non-smokers. The non-smoking casino area is perfect for people who love gambling but dislike smoking.           
Gambling at the WinStar World Casino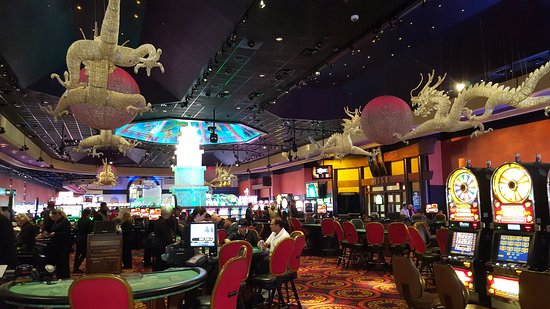 So you get the idea – the WinStar is a very big casino with lots of cool stuff inside it.
But what about the actual gambling?
Slot machines
The casino has 7,000+ slot machines, and a total of more than 8,500 electronic games on its casino floors. Popular slot machines at the WinStar include:
American Original
Buffalo Slots
Buffalo Stampede
Buffalo-Cash Express Gold Class
China Shores
Megabucks Wild Sapphires
China Shores Double Winnings
Da Vinci Diamonds
Quick Hits
In addition to the slot machines mentioned above, WinStar also possesses a massive number of Class II and Class III slot machines.
It's safe to say that you're not going to be short of slot machines here.
Poker and table games
At the WinStar World Casino, you'll find a massive 55-table poker room, as well as 100+ table games including Blackjack and Roulette across the casino floor.
The most popular table games are:
Roulette
Craps
Mini Baccarat
3-Card Poker
Blackjack Match
No Limit Texas Hold 'Em
As the largest casino in the world, the WinStar has several table games you can choose from, especially if you visit during peak periods when most the croupiers are working!
Keno, Bingo, and more
The WinStar boasts several more games that you might not find at other casinos in Oklahoma, such as Keno and Bingo.
Some of the most popular games include Keno, Bingo, and off-track betting on various events. There are also high limits rooms which cover various games and can be accessed from noon till 2 am.
WinStar Global Event Center
The Event Center is full of music and a variety of cultural events from every corner of the world. It is situated at the entrance of the Rome Gaming Plaza. The center is always reserved for several events, with a strong 3,500 seating capacity.
The center has hosted hundreds of international celebrities for various shows and events, including Kelly Clarkson, Lynyrd Skynyrd, and Davy Jones. There are often backstage and VIP passes available for those who are willing to pay the price.
WinStar Golf Club

There are two 18-hole golf courses, both of which have been designed by D.A. Weibring, former PGA Tour Pro Golfer.
There is also an upscale multifunction 10,000 square feet clubhouse, locker rooms for men and women, the Legends Bar and Grill, a grand outdoor patio area, banquet and meeting rooms, and a well-stocked golf pro shop.

Daily passes can be purchased with 18 holes and 9 holes options, and the price for this ranges from $28 to $60 per day, depending on the day of the week and how busy it is.
WinStar Golf Academy
The WinStar also has a golf academy, where newbies can learn to perfect their golf skills.
The Academy is just adjacent to the Golf Course. It provides various training sessions covered across high-spec driving ranges, putting greens, golf simulators, and chipping & bunkering areas.
WinStar World Casino Review


I have been a frequent customer of WinStar right from the year 2004 when the casino was in its initial months of opening. It was nice right from the start; the waiters and dealers used to serve with great passion and were very well-behaved with guests. They were always well-tipped by everyone, including me!
Recently the WinStar has made exponential changes to its infrastructure to maintain its reputation as the world's largest casino. Now employing over 14,000 people, the growth of the hotel has caused its service to get even better. The WinStar has a strong reputation to uphold, and the friendly staff is very good at doing so!
WinStar Vouchers and Coupons
As a regular customer of the WinStar on several occasions, I have received discount vouchers and discount coupons for the WinStar World Casino.
For instance, I recently returned to the casino because I received a $200 voucher with a validity of just 30 days. I needed to avail the voucher and hence decided to book a room on the weekend and spend the night gambling myself silly!
 I booked a room for $250 for one night's stay. I used the voucher of $200 while paying for the room, so I got a room for one night for just $50. It's a great deal for a nice hotel room at the world's biggest casino!
Food and drink
WinStar Casino, famous for gracing the list of top 50 casinos in the world, offers free lunch and dinner for guests with a hotel room booking when they're running special offers and campaigns.
There are lots of different restaurants to choose from, catering to all different tastes and cuisines. Personally, I'm a big fan of Toby Keith's, El Fenix, and Vino's Italian Eatery.
Should you visit the world's biggest casino?
As well as being the world's largest casino by gaming space, the WinStar frequently tops the lists as "One of the Best Casinos in the World".
There are several reasons for that!
On the whole, the WinStar World Casino Resort is a fantastic place to enjoy gambling, food, sports, relaxation, and anything else you desire. Whether you're going to gamble or just chill out a bit, the WinStar certainly doesn't disappoint.
So, if you want a relaxing vacation to a truly impressive casino filled with 7,000+ slot machines, 55 poker tables, 100 table games, off-track betting, Bingo, Keno, and a whole lot more – look no further than the WinStar!
Have fun and gamble responsibly!